NHTSA Defines the Scope and Purpose of the FMVSS 216 Roof Crush Resistance Compliance Test:

- Scope: This standard establishes strength requirements for the passenger compartment roof.
- Purpose: The purpose of this standard is to reduce deaths and injuries due to the crushing of the roof into the occupant compartment in rollover crashes.
CfIR's research was instrumental in saving lives by providing NHTSA with experimental data and analysis that led to:
- NHTSA's strengthening of the FMVSS 216 test criteria,
- NHTSA's adoption of a 2-sided FMVSS 216 test,
- Design of a more biofidelic prototype rollover crash test dummy neck, and
- Design of the HALO rollover protection system.
CfIR Developed the Quasi-Static M216 Test and Dynamic JRS Test Fixtures: Rollover testing has been CfIR's primary focus since it was founded by Donald Friedman in 2001. We have conducted quasi-static tests with our M216 device to determine a vehicle's SWR. We developed and utilized the dynamic JRS to evaluate effects of roof crush and restraint systems. We also performed pendulum and spit tests to predict catastrophic injury in a rollover crash.
Quasi-Static 2-Sided Roof Strength Fixture (M216): The M216 measures vehicle roof strength similar to FMVSS 216. However, we test both sides of the vehicle roof sequentially at angles that more realistically emulate roof impacts. Our test procedure accounts for the fact that both sides of the roof contact the ground in multiple-roll accidents, and that the second side impact is at a greater roll angle than the first. By measuring roof strength on both sides we are able to quantitatively assess the amount of strength that the bonded windshield contributes to the roof as well as the gross disparity between first side and the second side roof strength (in the first roll of a multiple rollover). The fixture can also be used for glazing retention studies for ejection cases, analysis of roof strength for occupants injured in rear seat seating positions, and for measuring the roof strength of vehicles equipped with ROPS devices.
Jordan Rollover System (JRS) 2003: The JRS is a versatile, repeatable rollover testing system capable of assessing vehicle structural design and performance, restraint system performance in rollovers, and rollover occupant kinematics and ejection. A full suite of instrumentation in the test vehicle and on the fixture allow for quantitative analysis of rollover forces and structural performance.The patented dynamic rollover test fixture simulates the rollover impact of a vehicle with a movind road bed. The vehicle is supported by towers at each end and dropped to the road bed for near and far side roof crush forces.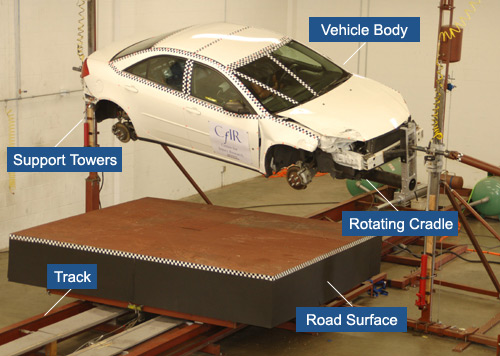 JRS I Fixture for Dynamic Testing
Functionality: The system allows for repeatable tests in which various rollover parameters including pitch, yaw, roll rate, drop height, and contact angle can be altered and controlled. The JRS can also be used to conduct tests on component parts like rollover sensor triggering, side-curtain airbags, pretensioners on belts and spit tests to name a few.
Results: The matched pair tests on the JRS clearly demonstrate the reduction in injury potential with a strengthened roof structure. In our most recent tests, the roof intrusion was reduced by approximately 80%. The intrusion velocity was decreased by approxiamtely 50%. With these reductions which can be accomplished by reasonable, engineering alternative designs, the rollover occupant protection is greatly enhanced.
Jordan Rollover System (JRS II) 2011: Two improved versions of the JRS have been built for research at the University of New South Wales in Sidney, AU and at UVA in Charlottesville, VA.
JRS Testing - Click on vehicle below for description and test.